Watch Review: Elka X Series X01 With Neo-Vintage Style | aBlogtoWatch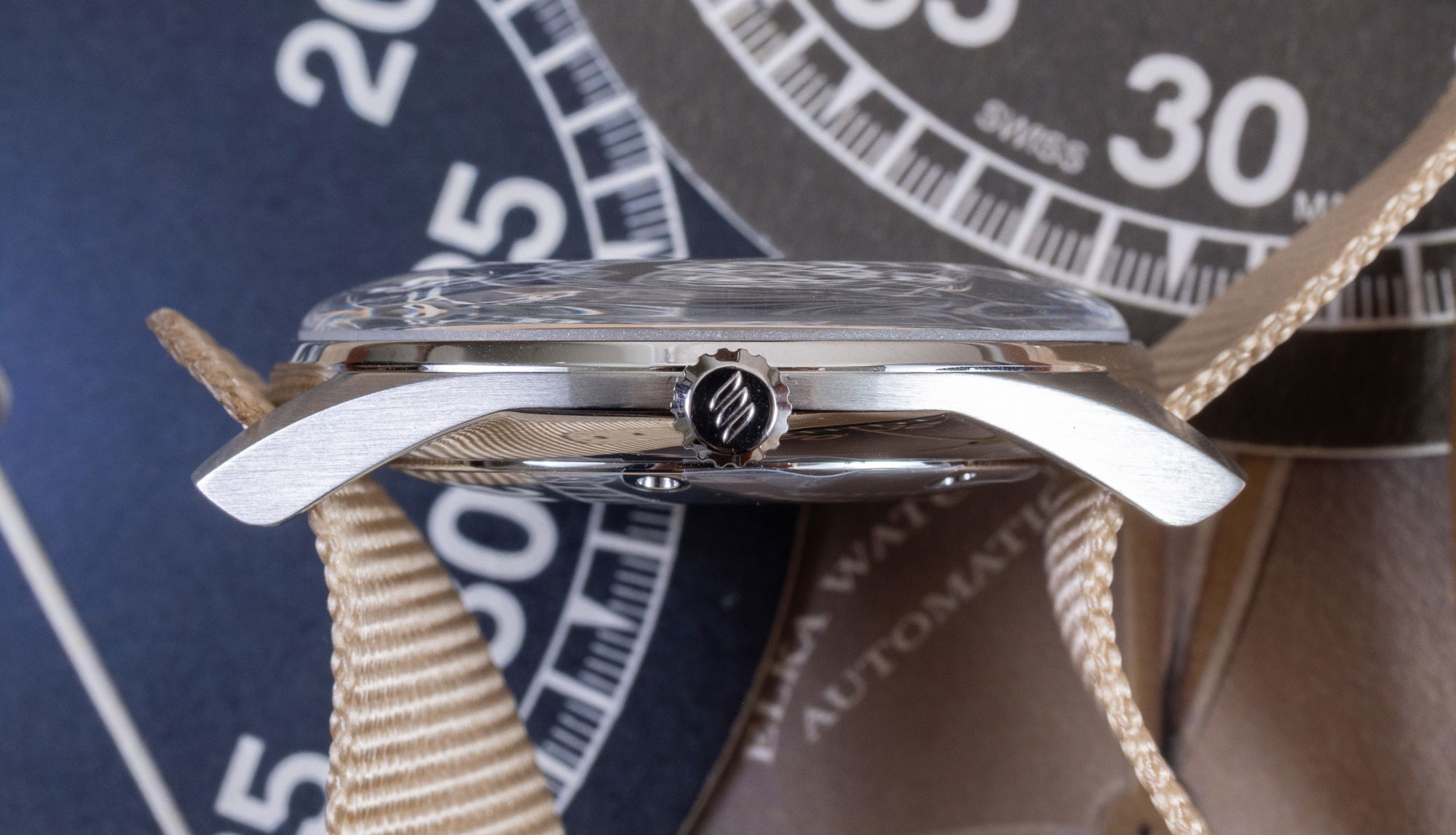 Elka Watch is a relatively new watch brand (first discussed on aBlogtoWatch as part of a product collaboration with Ace Jewelers) founded by an accomplished watch industry designer who spent over 20 years at the Swatch Group. Hakim El Kadiri created a fun vintage-style brand that I believe is both an actual revived Swiss watch brand name as well as a playful contraction of the first letters of the family name "El Kadiri." Elka, in its current form, presents what I call neo-vintage designs, which means they are crafted to look as though they came from the past but are entirely modern in both dimensions and construction. This review is of one of the Elka X Series models, which was designed to resemble aviation instruments of the past. There is no one specific reference analog that the X Series watches are trying. Rather, the X Series is a skilled amalgamation of classic design elements pulled from various sources and integrated together in a way only a very experienced wristwatch design is often capable of doing.This particular Elka X Series watch is the reference X01-0901 with a black dial and khaki-colored ("old tritium") luminant for the hour indicators and hands. It is important to point out that Elka produces a similar sister model, the Elka X Series reference X01W-0901, that only differs in that it has a no-date dial. Most Elka X Series watches do not have a sister model. I point this out so that buyers can be aware when choosing a watch (especially since it is easy to miss the difference on the dial and because the watches are the same price). Even with the date, the dial is clean looking because at least on this model, the date dial matches the black color of the watch face. As of now on the Elka website, there are over 15 versions of the X Series, which mainly differ in terms of dial/hands color and strap options. It's a great platform for Elka to play with, and it makes for a fun, conservative, classic watch design that doesn't take itself too seriously.
From the marketing pictures, you can't get a good feel for what makes this timepiece collection feel special.
Neo-vintage watches today are a dime a dozen. Each week new wristwatches, hoping to evoke the aesthetic of old watches, come onto the market. Some of them are less expensive than the Elka X Series, and most of them are more expensive. Most of them look good in pictures, but what separates the good neo-vintage watches from the mediocre ones are those that actually feel as though they have parts and features that could have been made yesterday. As watch manufacturing practices have changed, so have the look and feel of the watches themselves. Anyone with a little bit of experience can easily handle an antique watch and appreciate that it was made using different techniques, and often with different materials than those used today in manufacturing. Aside from the classically-inspired design, what serves that purpose on the Elka X Series X01? In my opinion, it is probably the case as well as the sapphire crystal.Over the dial of this 40.8mm wide steel case is a domed sapphire crystal. The particular dome shape isn't a consistent curve but is stepped in the middle, and that gives it a very different personality. It is more akin to crystals made in the past, which were not produced from sapphire crystal. This small stepped element in the shape of the crystal is noticeable but, despite causing some distortion (glare is low thanks to enough AR coating), doesn't really negatively affect legibility. This sort of perfect imperfection offers personality and makes this otherwise relatively minimalist watch feel that much more intriguing. The case is designed to look a lot thinner than it actually is. At 10.8mm thick, this is not what you'd call a thin watch (though it isn't overly thick at all). With that said, it wears very slim on the wrist. How is that possible? Elka achieves this by using a series of time-honored design tricks to make the case feel slimmer. The first trick is to create a tapering caseback as part of an overall rounded shape that makes the entire watch feel more like a pebble than a cylinder. The second trick is to create thin-looking side flanks and flared lugs. From the side, the X Series case looks very thin when just looking at the brushed steel side flanks. This distracts the eyes from the curved, polished elements of the case which is where much of the bulk actually lays. The steel case is also a modest 46.5mm long (lug-to-lug distance) and is water-resistant to 30 meters without a screw-down crown. I would have preferred for this otherwise sporty-looking watch to have a bit more sporty performance elements to it such as 50 or 100 meters of water resistance.

On the wrist, the X Series case is very comfortable. The size of the case feels modern but the style is classic in a way that works together well. Especially on the NATO-style strap, the case hugs comfortably to the wrist. I also like that the case and crystal are very smooth to the touch. I frown upon watches that are too sharp or rough and try to recognize watches that succeed from a tactile perspective. Elka offers the X01 on a brown leather strap as opposed to this beige-colored NATO-style strap with the reference X01-0801, which costs just a little bit more. Personally, I prefer the NATO-style nylon strap look for a watch like this — but that's just me. Inside the Elka X Series watches is a newer Swiss Made La Joux-Perret caliber G100 movement. These automatic movements offer an excellent value-to-performance ratio and combine Swiss decoration with careful Japanese engineering (Japan's Citizen Group owns Swiss La Joux-Perret). The G100 automatic movements operate at 4Hz with 68 hours of power reserve. I will say, however, that you can hear the rotor spinning in the case, which at the least means there appears to be a high degree of winding efficiency. I feel that for the money this is a good movement choice, though something from ETA would have also been a solid option.From the ground up, Hakim El Kadiri used his considerable experience and talent to create a vintage watch that never was. One of the best vintage design elements on the case is the Elka logo, which really does look as though it is at least 100 years old. The soft, leaf-style hands are properly sized, making the dial both instrumental and elegant at the same time. There are no whiz-bang special effects or exotic materials here, just good old-fashioned looks presented in a refined and curated manner for today's timepiece enthusiasts. That's never easy to do right, and it happens to be just the start of the Elka brand. The price for the Elka X01 X01-0901 on the beige NATO-style strap is CHF 1,569.

>Brand: Elka Watch
>Model: X Series X01 reference X01-0901 as tested
>Price: CHF 1,569
>Size: 40.8mm wide, 46.5mm lug-to-lug distance, 10.8mm thick
>When reviewer would personally wear it: Easy to wear daily timepiece for casual to business settings. Fits a vintage car/plane/vehicle theme well or just a generally tasteful wrist object for social settings.
>Friend we'd recommend it to first: Casual luxury watch lover with unpretentious tastes who likes nice but not overly expensive watches that feature familiar looks but from unique places.
>Best characteristic of watch: Comfortable on the wrist and pretty to look at. Genuinely looks older than it is and thinner than it is.
>Worst characteristic of watch: No display caseback to view movement. Not enough overall durability to serve as an actual sports watch.